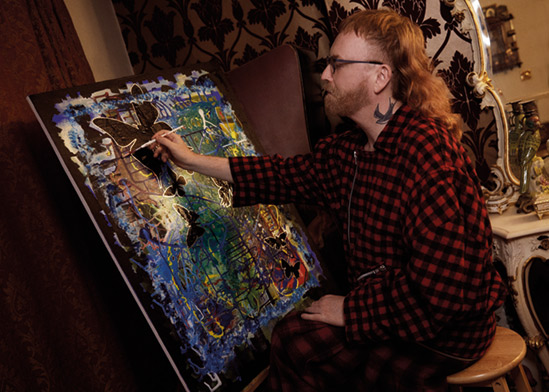 Artist in the Window
The Brunswick Art Gallery is excited to announce a new artist joining its 'Artist in the Window' Live showcase and exhibiting his fantastic work in the gallery this October.
Dusty O will be joining us from 22nd October, offering the public the chance to watch Live art coming to life in the main gallery window on specific dates (see social channels for more details) plus the chance to meet the artist himself. Dusty's celebrated art will also be on show in the gallery for the public to view over the coming month.
One of the most popular faces of Soho for over a quarter of a century, Dusty has now turned his talents to his own art, using vivid colour and frenetic energy in contorted pieces that depict his reality as a performer and human being. His exhibition at the gallery will include 10 original pieces and one-off prints, and he'll be creating Live art in our gallery window. He will also be promoting his new book, due out in 2022.
Visitors to this showcase event will be able to purchase the artists' work through our Own Art scheme, which allows you to pay for your favourite piece in easy, monthly instalments.