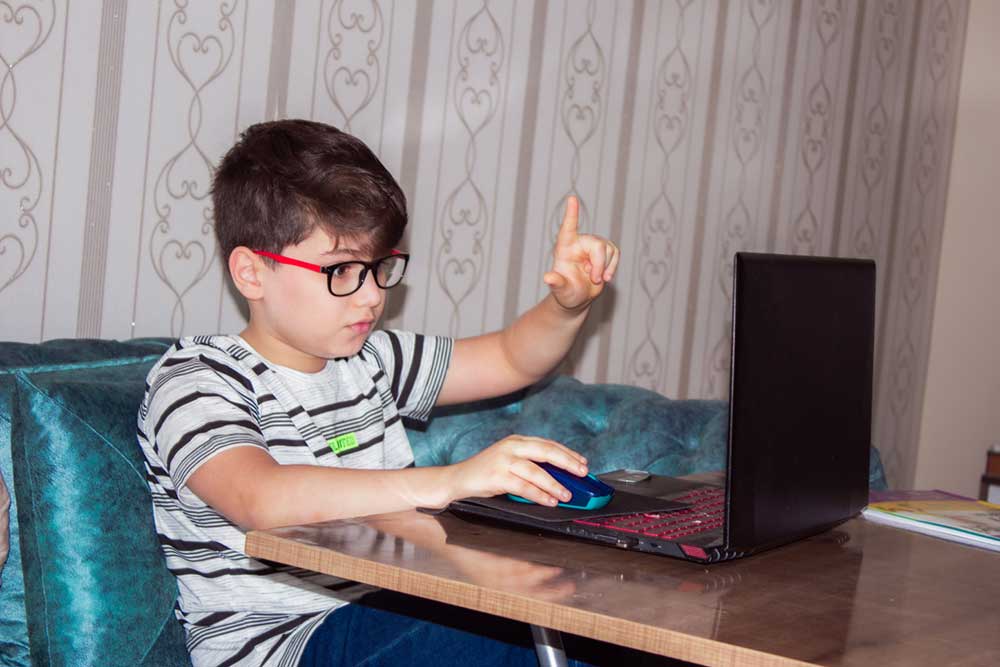 Role models inspire Kids to feel 'cool and confident' and wear their specs with pride
CHILDREN are more confident than their parents were when it comes to wearing glasses because they feel 'happy', 'cool' and 'clever'.
Research by Specsavers [1] a decade ago revealed that wearing glasses often provoked bullying, however a new study [2] by the high street opticians reveals a decline in name-calling and an increase in self-assurance among younger specs wearers.
One in five parents said they felt self-conscious wearing glasses as a child because they were bullied or picked on, compared to 77% of children aged five to 16 who said they are confident wearing glasses because they make them feel happy (34%), cool (32%) and clever (29%).
Proving that glasses are now viewed as a must-have accessory, more than a third of children (34%) who don't currently wear them said that they would also feel cool if they were prescribed specs.
Bianca Sarre, Specsavers style advisor, says: 'Our research shows just how much the times have changed and it's wonderful that, instead of feeling self-conscious or at worst, bullied, children are now happy to wear their specs and wear them with pride. Many people now see their glasses as a fashion accessory and an extension of their style, and for children in particular, there are many glasses-wearing role models for them to look up to, which may have been less the case when their parents were young.'
The most popular specs-wearing heroes for children, according to the Specsavers study, are Harry Potter (57%) and Superman (41%). Heartwarmingly, 45% of children also said that their mum or dad were their biggest hero who wears glasses.
Their heroes were selected because their glasses made them look cool (40%) and never made things difficult for them (32%). As a result, almost a third (31%) of children say that these people or characters make them feel more confident about wearing their own specs.
Bianca adds: 'It's very encouraging that children feel more confident in their glasses than in the past, but unfortunately name-calling does still exist, albeit to a lesser extent. Our study shows that shockingly, nearly half (48%) of parents were called names as a child because they wore glasses, compared to just over a quarter of children (27%) now. This could account for why 44% of parents say that they worry about their child wearing glasses.'
Specs-wearing dads worry slightly more than mums (46% v 43%), possibly because 52% of them were called names as a child compared to 45% of mums. It is a gender split which is still reflected among children today, with 33% of boys saying that they have been called names because of their glasses compared to 21% of girls.
But things have greatly improved since Specsavers' initial survey in 2009 when almost 50% of spec-swearing children were called names in the playground and one in five skipped school because they were bullied about their glasses. Almost a quarter of children said then that having to wear glasses to school made them feel sad while 60% didn't think glasses were cool.
Bianca comments: 'While it is upsetting that the usual nicknames, such as ''four eyes'' and ''geek'' still exists for those who are picked on, it is promising that it is happening less and attitudes are changing, with one in five specs-wearing children being likened to their heroes, such as Harry Potter.'
Children's anti-bullying charity, Kidscape, which has been a long-standing Specsavers charity partner, also finds the new research promising.
Lauren Seager-Smith, CEO at Kidscape, says: 'Specsavers has been a huge supporter of Kidscape and bullying prevention for many years.  This includes raising significant funds to help Kidscape deliver practical support to children and families impacted by bullying. We are delighted that the experiences of children in school are changing and that this generation can wear their specs with pride.  Through working together, united against bullying, we can change the lives of young people for the better.'
On October 23, Specsavers is launched a new offer where children receive free glasses from the £64 range, with the choice of a second pair at half price, giving both children and parents something to smile about.
For more information or to request an appointment you please contact Specsavers Brunswick Centre. Visit www.kidscape.org.uk to find out more about Kidscape.
[1] Specsavers 2009 survey of more than 1,000 children and their parents
[2] Specsavers 2020 survey (07.09.2020 – 17.09.2020) of 1,000 parents with children aged 5-16, who have worn glasses since they were children, 500 children who wear glasses and 500 children who don't wear glasses