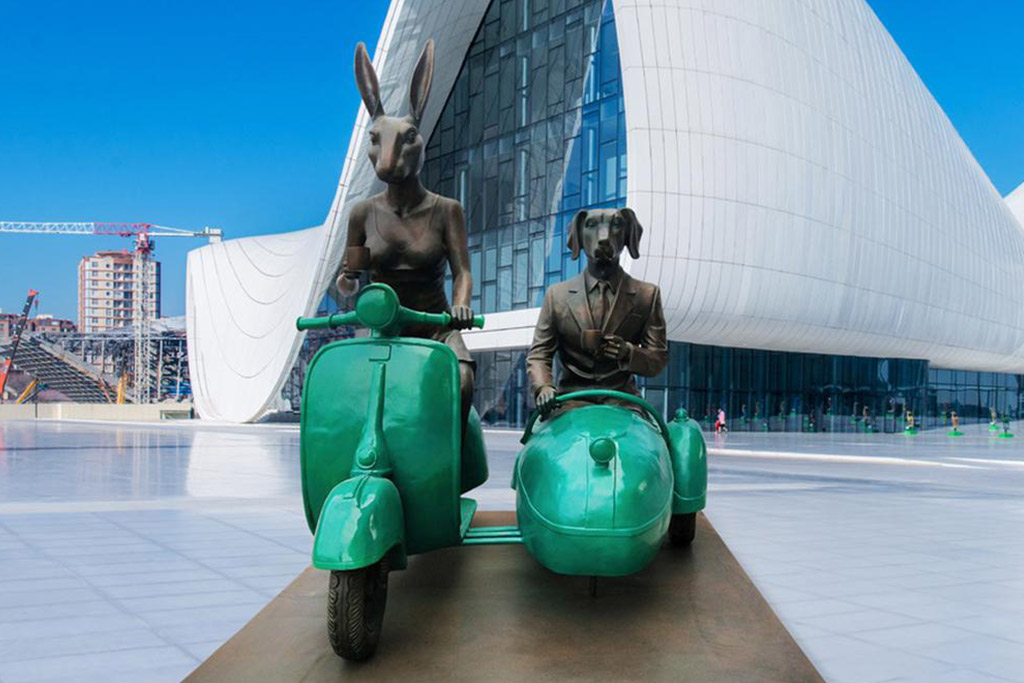 World-famous Sculpture Comes to The Brunswick!
We're all set to welcome some incredibly well-travelled guests as a sculpture by world-renowned creators of public art 'Gillie and Marc' is set to arrive at The Brunswick this September!
The new sculpture called 'Together Forever on Wheels' is due to arrive in the middle of next month and will stay in the centre for the next eight months. The piece incorporates Gillie and Marc's most popular sculpture themes, Rabbitwoman and Dogman, Vespas, and coffee.
Rabbitwoman and Dogman tell the autobiographical tale of two opposites coming together to become soul mates. The Rabbit and the Dog, as unlikely animal-kingdom companions, represent diversity and acceptance through love.
In 'Together Forever on Wheels' Rabbitwoman takes the lead on the bike while Dogman gets cosy in the sidecar next to her, trusting her to take him somewhere incredible. With a seat on the back of the bike, this sculpture is interactive, allowing YOU to jump on and be part of Rabbitwoman and Dogman's next adventure – we sense photo opportunities galore!
This amazing sculpture has been installed in major cities across the world to show love and acceptance and is part of the 'Travel Everywhere With Love' project, so it's fantastic news that it is now coming to The Brunswick, London for you to enjoy!
We're also working on another exciting collaboration between The Brunswick and Gillie and Marc set to involve local children's charities, and the commissioning of a second set of sculptures called 'Creatures of Hope' that will be designed by children and brought to life in sculpture form in 2021. Watch this space for more details on this exciting project! 
With our Brutalist architecture, stunning sculptural installations and vibrant music and events calendar, The Brunswick makes the ideal spot for anyone with a creative mind.