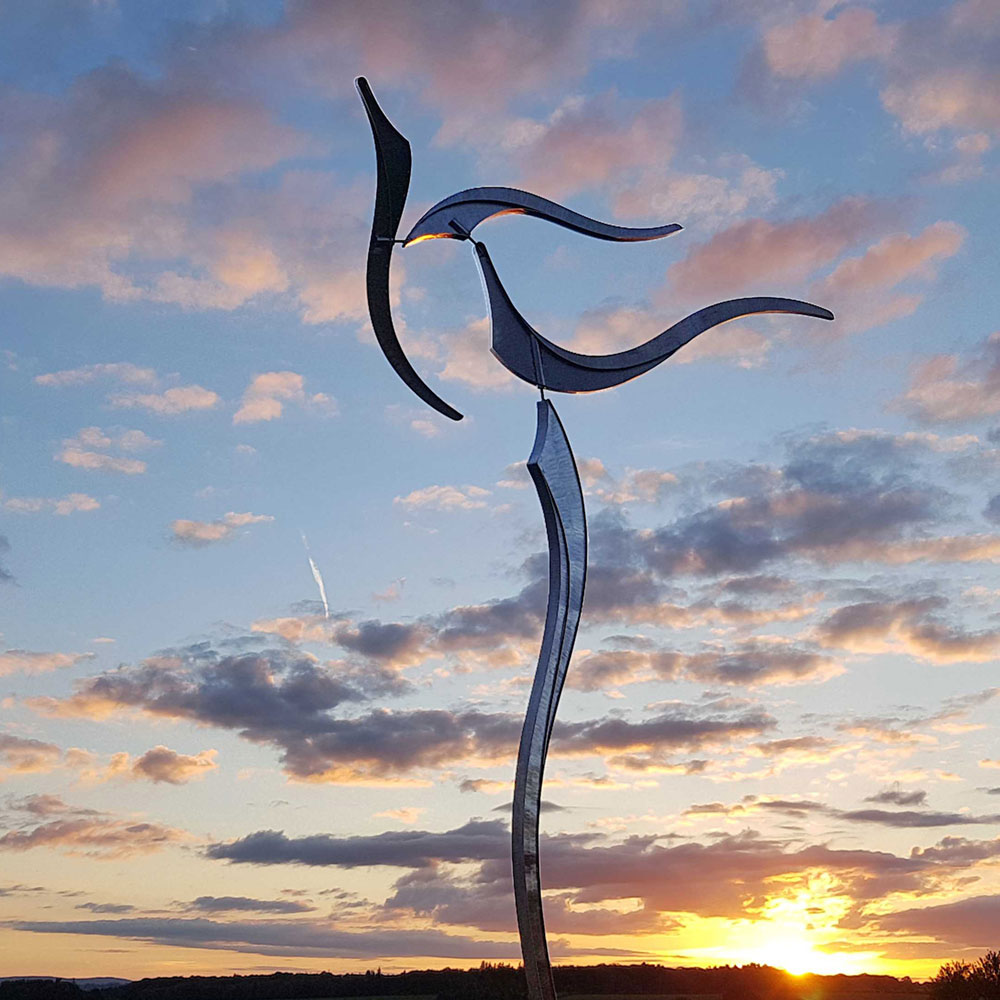 Catch up with Will Carr
On a rather grey Thursday in January, we met up with Will Carr, one of the artists set to exhibit here at The Brunswick Art Gallery, to find out a little more about him, his work and his influences as he installed one of his stunning pieces here in the centre.
A farmer from Herefordshire by day, Will loves paragliding, climbing and exploration of playful experiments in his workshop – providing some idea of where the inspiration for his mesmerising kinetic wind sculptures comes from.
Will says "I arrive at my designs through play" – 'play' is a key concept for him in his art and understanding fluid dynamics and the transfer of momentum is really interesting to him.
Q: How did you start on this art journey? 
A: I came from an engineering background and was a self-taught welder when I started out on this journey nine years ago.  My focus back then was figurative art – animals, birds and insects, which went on to inspire my 'kinetic art' journey, which started 4-5 years ago.
Q: What is a typical day for Will Carr? 
A: I'm not a full-time artist – juggling my time between running the family farm and developing new ideas for my art. I mainly split my time between running the farm in the Summer months, and focusing on my art in the Winter months – the general split is one-third managing the family farm and two-thirds dedicated to the construction of ideas and my kinetic art. This allows me the Winter to develop ideas and make my art pieces, and the Spring / Summer months to sell it! 
Q: What is your process for concepting a piece of art? 
A: My art always begins with sketches out in the woods. I then develop these ideas into cardboard cut-outs and project my ideas on to the wall in my workshop on the farm, to check the scale – then there is some back and forth making alternations to those initial ideas. I will then make a model at approximately half the size of the final piece, to check if it will work – again there will be a process of watching and moderating where necessary.  
Once I'm happy that the kinetic structure will work, the initial design goes to CAD (Computer-aided Design). I work with a team in India to support this part of the process – and they will create a 3D model of my proposed sculpture. Next is the point where the design will be certified by structural engineers before I can go any further into the design process. The certified design is laser cut and assembled back in my workshop in Herefordshire – this time at full size.
I use raw materials for my product base and make one sculpture and then batch produce (in some cases) – the maximum I will produce of any one sculpture is 12. Then once the finished article is ready, it's off to my customers for installation! 
Q: What have you learnt from your concepting process over time? 
A: Balance is key! Plus, the angles and distances on any sculpture have to be spot on to ensure the continued momentum / movement of the piece. 
Q: How much would a typical sculpture cost? 
A: On average, pieces retail at around £8,000. 
Q: What are the main places that your art is displayed? 
A: They're almost always at exhibitions and at some galleries as well as National Trust houses and big manor houses – mainly for private buyers.
Q: What is your most unusual piece? 
A: I created a piece called 'Quadrabolds' which is in my workshop in Herefordshire, installed in the roof and not for sale. It's made from hundreds of old farm machinery belts and was created to understand the concepts of balance and momentum.
Q: What is your favourite piece? 
A: Coreografia – which we've just installed here at The Brunswick. It is based on the movements of a dancer and was inspired by my girlfriend – who is a dancer. 
Q: What is your next big project? 
A: It is a 5m high piece that has three moving parts. I'm currently finessing it and it will also be on display at The Brunswick as of Spring this year. 
Q: Other pieces in London? 
A: Working with The Brunswick is my biggest project so far in London, so it's really helping to establish my presence in the capital. 
Q: What will you be displaying in The Brunswick Art Gallery? 
A: Visitors to the gallery will be able to see a piece called 'The Wisp'… I won't give any more away – they'll have to come to the gallery to see it!
Q: What artists have inspired you? 
A: I'm really inspired by other kinetic artists including Anthony Howe – who is famous in the Kinetic Art world, George Ricky and Alexander Calder – a pioneer of kinetic art.
Q: Do you work with anyone else on the farm when it comes to art?  
A: I share my workshop with a few other creative people, making it a great hub for inspiration!  I have access to very skilled metalworkers to help create my sculptures and have some of the more specialised super high tolerance parts made by experts in the milling process, to one thousandths of a millimetre.
Q: Where can we see your art? 
A: My art can be seen all around the UK at many sculpture exhibitions – it's especially popular in the Cotswolds and Surrey areas. Beyond the UK, I have pieces in Australia, Hawaii and I'm currently developing relationships with people in the kinetic art community in the US.
Q: What does the future hold for Will Carr? 
A: I'd love to expand my presence here in the UK as well as internationally, as well as working on more public sculptures at some stage.  I endeavour to create artwork which makes people take notice and inspires them to explore the hidden interactions within our world.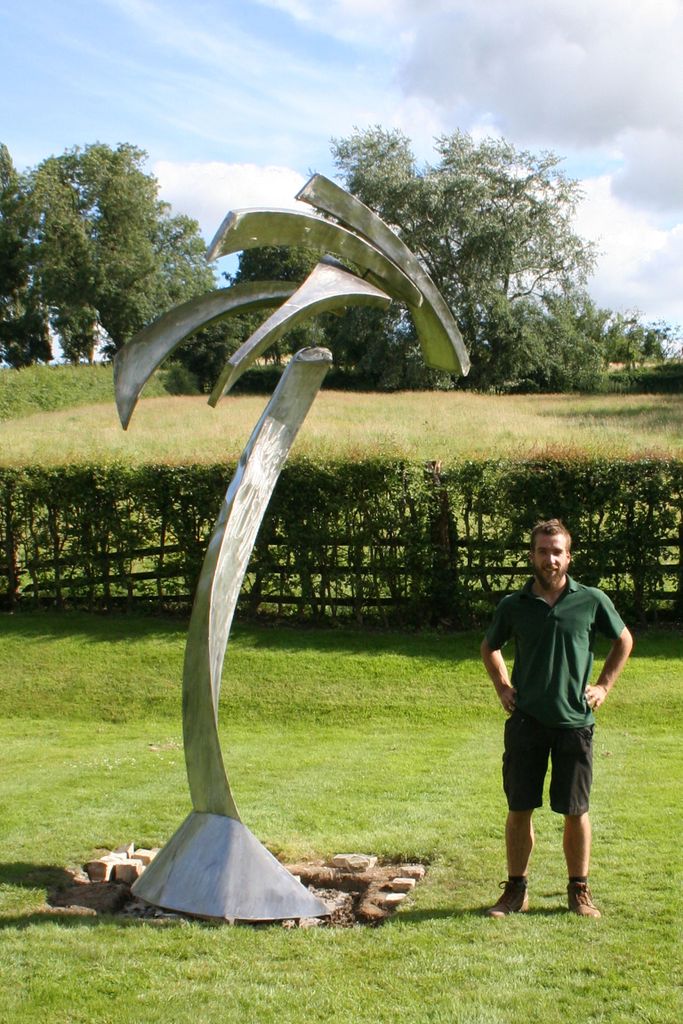 Q: Anything else to add? 
A: It's been a lot of hard work to get here, but I love it and could happily do 12-hour days – it's not a job, it's a passion.
Big thanks to Will Carr for sparing some of his precious time for a catch up with us.