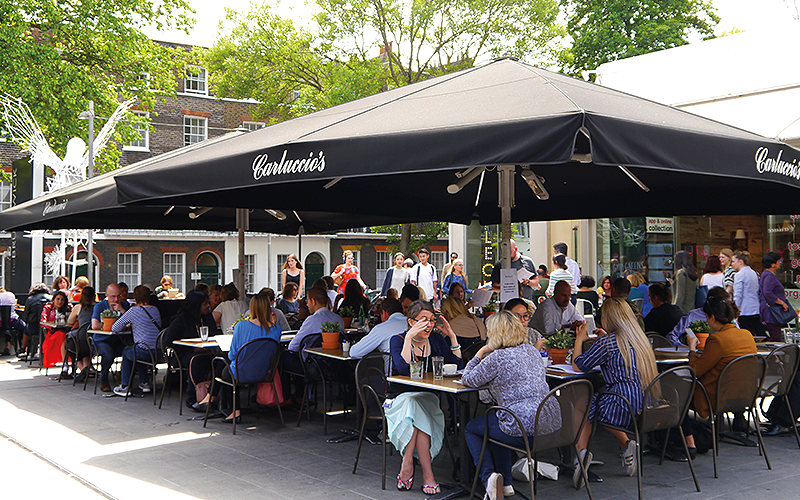 For once we are enjoying a summer where you don't have to jump on a plane for a few thousand miles to dine alfresco! (Yay!) And at The Brunswick you'll find a world of flavours at your fingertips and lots of outdoor seating in our tranquil plaza to soak up that summer sun!
Start your day the right way with breakfast at Giraffe. Their menu is like nothing else! Packed with world classics, including their take on the full English – the Big Brunch, plus Shakshouka, Huevos Rancheros and lots more. Their lunch and main menu options are equally to die for – and let's not even start on the desserts!
Carluccio's offers the ultimate authentic Italian. Pick your way through the stuzzichini, while you decide on your starter, sharing board, main and beyond. From the Crab Bruschetta to the Gemelli alla Luganica, their dishes are bursting with genuine flavour.
For something light hearted, that everyone in your party will enjoy, Nando's is on hand! Their fabulously flavoursome menu has recently had an overhaul and is now even better than before! All eyes on the Fresco Burger – PERi-PERi chicken breast, smashed av. and tangy pickled cucumber, topped with rocket – de-lish!
Las Iguanas takes your taste buds on a trip to Latin America, with an awesome collection of dishes from Brazil, Mexico, Argentina, Peru and beyond – with Bahain coconut chicken, enchiladas, Blazing Bird, and Dominican Goat Curry on the menu to name but a few…
And that's just a taster of The Brunswick's extensive menu! For more details check out our food & dining page.
Enjoy!