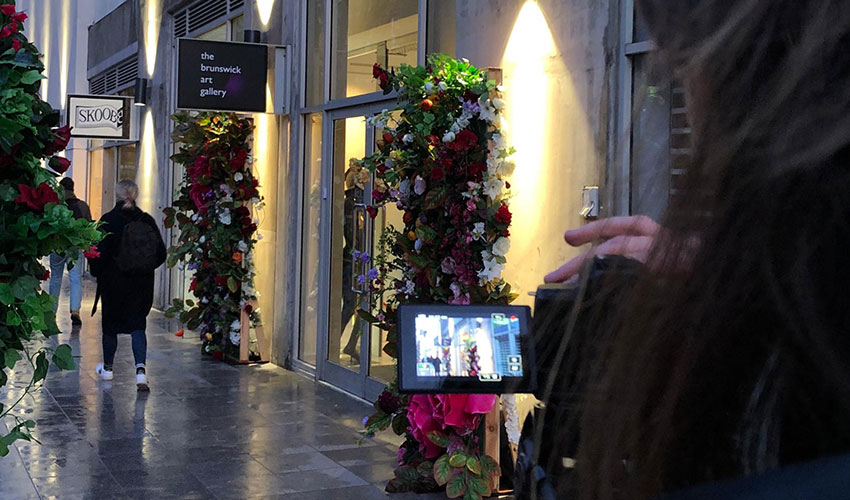 The Brunswick Art Gallery – Now Open!
The eagerly awaited Brunswick Art Gallery opened its doors at 10.30am on Thursday 20th February before hosting an exclusive launch party for press, artists and local art schools from 6.30pm. The event was a vibrant celebration of arts within the local creative community and saw the gallery bustling with activity until late into the evening. 
Our aim as a centre is to create a hub of arts and culture in this prime central London location, so the Gallery makes a fabulous addition. It follows the installation of sculptural pieces by world-renowned artists 'Gillie and Marc' as well as Herefordshire born Will Carr in addition to the centre's popular arthouse cinema – Curzon Bloomsbury, with more to come later this year! 
The Brunswick Art Gallery is a partnership between The Brunswick and Turner Fine Arts and features collections from a unique portfolio of artists that are currently taking the arts scene by storm. It is home to a very eclectic and profoundly intriguing set of works by all the artists involved.
Shaun Gagg
Walter Furlan
Len Gifford
Hamad Al Humaidhan
Artists resident at The Brunswick Art Gallery include Shaun Gagg, Walter Furlan, Kieran Crowder, Len Gifford, Ed Chapman, Hamad Al Humaidhan, Will Carr, Bill Mack, Stephen Kettle, Shirley Borokhov, Temper, Dale Arnold Lewis, Eva Bazhenova, Jody Craddock, Roy Meats, Sabina Pieper, Barry John MBE and Frankie McAllister.
Exhibits include Shaun Gagg's sculpture of a lifesize bull, made entirely of 2 pence coins as well as Walter Furlan's Picasso-esque glass sculptures, which welcome you to the Gallery.
Kieran Crowder's defining art project 'Here lies' also features and provides a thought-provoking reflection on what it is to be human. While Stephen Kettle's intricate slate sculptures will have viewers truly mesmerised. His sculpture of Sir Winston Churchill is especially poignant given this years' 75th anniversary of VE Day and his iconic speech.
Will Carr's stunning kinetic wind sculptures exploring the relationship of geometry and form, feature both inside and outside the Gallery – with two of his much-loved pieces, welcoming visitors off the street outside Curzon Bloomsbury.  'The Wisp' welcomes visitors to the gallery with its mesmerising movement and form.
Len Gifford's work, inspired by the human form, stems from his work as a mannequin sculptor, while 20-year-old Hamad Al Humaidhan's vibrant works, full of energy portray the world through his youthful eyes.
Ed Chapman's incredibly detailed mosaics will have viewers mesmerised with the sheer variety of materials used in this painstaking creative process.  
Shirley Borokhov's love for subjects caught in action shines through as her stunning sculptures have an equally idiosyncratic and recognisable style. 
Critically acclaimed graffiti artist Temper's work is a stunning display of graffiti art like you've never seen before and gives viewers a true appreciation of just how he has come to work for iconic brands including Sprite, Coca-Cola and Saatchi and Saatchi.
Frankie McAllister's photographs of urban, suburban and semi-industrial landscapes in the UK and abroad, looks at the often-conflicted relationship between human development and our environment, particularly in sensitive locations.  
Bill Mack's relief sculptures welcome you into the gallery, alongside the work of Walter Furlan. These stunning collections offer the creatively inclined of Bloomsbury and beyond, a unique and inspiring experience in the heart of London. The Gallery is located at the rear of The Brunswick between the street entrance to Waitrose and Skoob Books and Drury Porter.